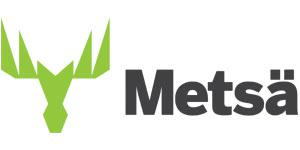 Sales Controller, FIBA, Metsä Group
Espoo, Uusimaa
Metsä Group: www.metsagroup.com Metsä Group is a forerunner in sustainable bioeconomy utilising renewable wood from sustainably managed northern forests. Metsä Group focuses on wood supply and forest services, wood products, pulp, fresh fibre paperboards and tissue and greaseproof papers. In 2019, Metsä Group's sales totalled EUR 5.5 billion, and it employs approximately 9,300 people. Metsäliitto Cooperative is the parent company of Metsä Group and is owned by approximately 103,000 Finnish forest owners.
Metsä Tissue

www.metsatissue.com
Metsä Tissue creates a cleaner every day. We are a leading tissue paper supplier to households and professionals in Europe and the world's leading supplier of greaseproof papers. Our brands are Lambi, Serla, Mola, Tento, Katrin and SAGA. With production units in five countries, we employ around 2,700 people. In 2019, our sales were EUR 1 billion. Metsä Tissue is part of Metsä Group, a forerunner in sustainable bioeconomy. 
We are looking for a
Sales Controller, FIBA
to join our international team for the Tissue Business Unit. In this position you will report to the Business Unit's VP Sales Controlling and Reporting and work closely with the SVP and VP's Sales and Marketing, Sales Directors and Key Account Managers, in most cases related with Nordic markets and Nordic brands, both in Consumer as well as in Professional segments.
Your duties include the management of budgets and estimates, working capital analysis, the validation and control of terms and conditions as well as following up sales and marketing costs. With your business sense you creatively identify needed action to reach targets and to enhance the profitability with respect to brands, products  and customers. You provide appropriate commercial analyses and material to your team colleagues and are expected to build a network and closely cooperate with the financial shared service, supply chain and customer service functions. The preferred location of the position is in Espoo, Finland.
Ideally, you hold a Master's degree in Business with experience in sales or business control in the FMCG industry or similar. Previous experience in an international environment is an asset. Your written and spoken English is excellent. Other languages are considered an advantage.
You are a flexible team player with good communication and cooperation skills. You have well-developed abilities to work with figures to make in-depth financial analyses and to draw conclusions which you can present in a comprehensive manner. You are target oriented and it is natural for you to think in the long term. You are also willing to travel occasionally.
For further information please contact Pär-Ola Svensson, VP Sales Controlling and Reporting, by phone +49 2684 609 124 (in English, German or Swedish). Pär-Ola is available from 17.8. forward.
We offer you an exciting challenge in an international working environment with good career and development opportunities. If you are interested in this opportunity please submit your application and CV via this link by 21.8.2020
Good Luck!