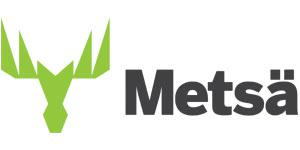 Planner, Metsä Group
Mänttä, Pirkanmaa
Metsä Group is a forerunner in sustainable bioeconomy utilising renewable wood from sustainably managed northern forests. Metsä Group focuses on wood supply and forest services, wood products, pulp, fresh fibre paperboards and tissue and greaseproof papers. In 2019, Metsä Group's sales totalled EUR 5.5 billion, and it employs approximately 9,300 people. Metsäliitto Cooperative is the parent company of Metsä Group and is owned by approximately 100,000 Finnish forest owners. www.metsagroup.com
Metsä Tissue

www.metsatissue.com
Metsä Tissue creates a cleaner every day. We are a leading tissue paper supplier to households and professionals in Europe and the world's leading supplier of greaseproof papers. Our brands are Lambi, Serla, Mola, Tento, Katrin and SAGA. With production units in five countries, we employ around 2,700 people. In 2019, our sales were EUR 1 billion. Metsä Tissue is part of Metsä Group, a forerunner in sustainable bioeconomy. 
We are looking temporarily for a
PLANNER
to strengthen our Planning Team at Supply Chain in Metsä Tissue Mänttä.
What do you get to do?
We are looking for a motivated, experienced individual to join our Planning team. As a key part of the production process, you oversee daily production operations, ensuring supply chain efficiency and monitoring timelines. You are responsible for operative production planning at mill in horizon w0-6 and Supply planning (shift and capacity wise) from w6 onwards. You are monitoring target stock levels and that the deliveries are in on time and in full and inform about predicted out of stocks and changes in the production plan. Part of your duties is to call-off materials for the goods that are produced in the production lines that you are charge of. You collaborate closely with personnel from various departments including production, sales, offering, customer service and logistics.
The position is temporary, 1.1.2021 - 31.3.2022.
What do we expect from you?
Our ideal candidate has experience with ERP systems (SAP, SCM) and prior supply chain experience is advantage. We expect you to have a commercial education (Bachelor degree) and 2-3 years of relevant work experience. You are fluent in local language - spoken and written, English skills are needed as well. Planner should work and contribute proactively;  both independently, in teams and across the organization. We appreciate good organizing, analyzing and cooperation skills, flexibility and decision making.
Want to hear more? Call us!
Pekka Lakso, VP Supply Chain, FIBA (tel. +358 50 325 2399) happy to tell you more about your future role and our expectations for a new teammate. You may also contact by e-mail: pekka.lakso@metsagroup.com
What happens next?
Submit your application using the link "Apply". Include your CV and your salary request. The search is open until 4.12.2020. We wish you luck!