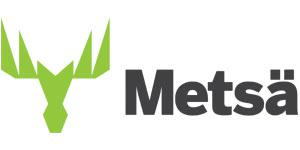 Mechanical Design Engineer, Metsä Group
Äänekoski, Keski-Suomi
Metsä Group is a forerunner in sustainable bioeconomy utilising renewable wood from sustainably managed northern forests. Metsä Group focuses on wood supply and forest services, wood products, pulp, fresh fibre paperboards and tissue and greaseproof papers. In 2019, Metsä Group's sales totalled EUR 5.5 billion, and it employs approximately 9,300 people. Metsäliitto Cooperative is the parent company of Metsä Group and is owned by approximately 100,000 Finnish forest owners. www.metsagroup.com
Metsä Board
Metsä Board is a leading European producer of premium fresh fibre paperboards and forerunner in sustainability. We produce premium lightweight folding boxboards, food service boards and white kraftliners for consumer goods packaging as well as retail-ready and food service applications. We work together with our customers on a global scale to innovate solutions for better consumer experiences with less environmental impact. The pure fresh fibres Metsä Board uses are a renewable resource, traceable to origin in sustainably managed northern forests. We aim for completely fossil-free mills and raw materials by 2030. 
The global sales network of Metsä Board supports customers worldwide, including brand owners, retailers, converters and merchants. In 2019, the company's sales totalled EUR 1.9 billion, and it has approximately 2,400 employees. Metsä Board, part of Metsä Group, is listed on the Nasdaq Helsinki. 
To develop solutions for packaging today and into the future, Metsä Board, part of Metsä Group, has started up operations in its new Excellence Centre at the unique bioeconomy site in Äänekoski, Finland. The centre, with its cutting-edge technology for R&D, packaging design and paperboard and packaging performance, aims to accelerate material and packaging innovation and provide a collaboration platform for customers and technology partners globally.
 
The Excellence Centre, which covers a total of 1,500 square meters, includes R&D facilities, a packaging design studio, a customer feedback centre and a state-of-the art laboratory providing more than 100 different measurement methods and analytics.  The centre also features a virtual store and a computer-aided engineering (CAE) tool to allow sophisticated simulation and analysis of packaging performance.
 
Metsä Board's Excellence Centre brings together Metsä Board's own competencies and deep expertise in fibre-based solutions with that of various experts and partners, such as material suppliers, technology providers, start-up companies, universities and research companies.
Metsä Board is looking for a
Mechanical Design Engineer
to operate as a member of the packaging design team in building the future in modern packaging solutions to its Excellence Centre in Äänekoski. The Mechanical Design Engineer will work closely with packaging designers, R&D and sales to solve critical customer packaging challenges. They will provide creative and unique custom engineered packaging solutions, training, and support for an endless stream of products from prospective and existing customers. In this role you will report to Packaging Services Director.

What's your role in the future Metsä?
Key responsibilities:
Execute and develop packaging strength and performance simulation through 3D modelling
Explore digital and virtual tool development in customer relationships
Collaborate with our commercial teams, business partners, and clients, to diagnose packaging problems and implement improved solutions and cost savings
Analyze data to identify trends and root causes of performance gaps in order to recommend actionable solutions
Work closely with the international design team and participate in brand and market research activities.
What are we looking for?
We expect you to have an academic degree in process or mechanical engineering or other relevant field and knowledge of different production and/or assembling processes. Experience in at least one 3D mechanical design software (Solidworks, Wertex, Inventor etc.) is required. You are experienced in strength calculation and analysis and preferably you have knowledge in 3D animations and/or in rendering, FEM simulation and programming. To be successful in this position you need to have a holistic approach in research and development and good problem solving skills. You are proactive, performance and result oriented team player with ability to work independently with tight deadlines and great attention to details. You have excellent communication skills in written and spoken English, other languages are appreciated. 
Why Metsä?
Metsä Board offers you an interesting position in a responsible and sustainable company with a long history in the Finnish forest industry. Metsä Group's values are responsible profitability, reliability, cooperation and renewal. If you can relate to these values and you have a development and people-oriented mindset, this might be the job for you.
Would you like to hear more?

Please call and find out! For additional information please contact Packaging Services Director Ilkka Harju, on 25 November at 10 - 12 (EET), 27 November at 15 - 17 or on 1 December at 13 - 15 tel. +358 50 330 7233 or via email ilkka.a.harju@metsagroup.com
Apply for the job!
Submit your application using the link "Apply". Please include your application, CV and salary request. The search is open until 6 December 2020. We wish you luck!