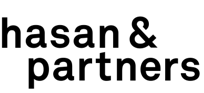 Hello, Senior UX Designer!, hasanx
Helsinki, Uusimaa
Hello, Senior UX Designer!

We:
We are 28 years old and still brand new.
We are constantly on a mission to renew ourselves, to become better and better in serving the market.
We are an ambitious and talented multidisciplinary team of business minded creatives and designers, story tellers, animators, strategists, communication professionals, data scientists, developers and experienced design leaders.
We operate in Helsinki, Stockholm and San Francisco.
We are hasan & partners Group and we are building the Lead Agency for Creative Business Design and Growth.
We are now building the latest piece of our offering, hasanX, a brand new Customer Experience and Business Design agency in Helsinki.
You:
You are an experienced Senior UX Designer and we have a great opportunity for you.
A key role in our new design agency.
You are a business minded and strategic design thinker with long experience in designing and leading end-to-end UX design work inhouse or with clients.
You are able to manage a portfolio of client work. Coach and direct our teams and work hands on with clients when needed.
You can turn occasionally abstract client needs into solid design briefs, concepts, strategies and amazing new digital experiences.
You are able to:
See the big picture of brand, business and customer value in the service ecosystem
Use all UX design tools and service design methods to solve client challenges
Formulate abstract client needs and business challenges into solid design briefs with concrete deliverables
Facilitate and run design workshops together with clients and multidisciplinary stakeholders
Design amazing user friendly and visually appealing digital experiences
Lead digital UX concepting work and rapid prototyping for user testing the hypothesizes and validating the business potential of a new experience
Lead end-to-end UX design projects together with our multidisciplinary teams and clients
Independently run a portfolio of client work with responsibility over quality and delivery
Present to clients, articulate viewpoints, listen to feedback and defend your solutions
Coach, mentor and direct our designers
You already have:
Proven track record of +4 years experience of UX and UI design
Strong portfolio of examples of products, services and experiences demonstrating good understanding of conceptual, strategic and creative work
Capability for creative and strategic thinking and problem solving
Excellent skills for operational efficiency
Fluency in written and verbal Finnish and English
Excellent presentation, negotiation and social skills
Desire to work in multidisciplinary teams and lead teams
Ambition for excellent quality
We are hasan & partners Group, a network of creative agencies operating in Helsinki, Stockholm and San Francisco. Our group consists of six companies working seamlessly together:
hasan & partners is Finland's best known story teller, marcom and branding agency.
Frankly Partners is a leading brand strategy, consumer insight and business design company.
Hasan Communications is creative earned media and communications agency.
Raw & Land is a full-service motion, animation and film production company.
Perfect Fools is our Stockholm based creative marcom and brand experience agency.
TBD is just two years old highly creative marcom and experiential agency in San Francisco.
What is hasanX?
Creativity, customer centricity, consumer insight and holistic brand understanding sets us apart from the rest of the market. We turn boring into interesting, see the whole picture of a brand, customer experience business value in everything we do.
We help our clients in creating new and growing existing businesses, we design new services and digital experiences across the service ecosystem. We help our clients to become more customer centric and design driven. And all of this we do in multidisciplinary teams together with other competencies in our group.
What do we offer?
A unique experience of being one of the first employees and playing a key part of building a totally new design studio which will be an integral part of hasan & partners Group. A creative and informal atmosphere at the hearth of Punavuori, Helsinki, filled with experienced, creative and nice colleagues from 15 nationalities. A chance to learn and grow professionally in a creative group operating globally and possibility to work for leading companies who are clients of our group.
A chance to develop into a Lead UX Design position
Next:
If this sounds interesting and you feel that you have what it takes to fill this position – send us your application or call us for more information.
Looking forward to hearing from you soon.
+358 50 4862 395