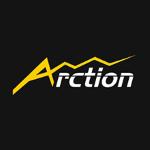 Digital Marketing Manager, Arction Oy
Kuopio, Savo 70620
We currently have almost 20 employees at our Kuopio office and we're looking for a Digital Marketing Manager in our commercial team to be responsible for the development and monitoring of Arction Oy's digital marketing communications – so we are looking for someone who has already worked in digital marketing.
We look forward to your experience in digital marketing and content production tasks. You have the understanding and experience of social media channels and how to take advantage of them. You can create nice-looking brochures, and copywrite in flawless written English. You follow digital trends and adapt quickly. You know how to use and develop our company's digital marketing analytics and metrics.


What we think you should have to be able to succeed in this role:
Digital marketing experience.
Fluent written and spoken English.
Comfortable with Microsoft tools (Teams, Excel, PowerPoint, Word etc.)
Teamwork skills and solid team player attitude.
Active and positive can-do mindset.
These would make us really happy (but not required)!
Technical understanding. Ability to understand and internalize how our products works – data visualization industry knowledge is a huge plus.
Experience in using the HubSpot marketing platform is beneficial to the applicant.
Additional language skills are also counted as a benefit (e.g. German, French, Korean, Chinese or Japanese).
What would your responsibilities be?
Together with sales, you are responsible for designing, analysing and optimizing digital marketing.
You bring new ideas for digital marketing.
You develop the visibility of the company's products in different medias.
Other agreed tasks based on chosen candidates skills and interests.
What do we offer?
The obvious: In-depth orientation and continuous support for you to shine in your role.
Great international team to work with.
Possibility to work remotely – some Kuopio days may be needed every now and then.
Competitive compensation for your work.
Nice, brand new, office space in Kuopio.
Good work atmosphere in a growing IT-company.
How to apply and more info:
All applicants must be eligible to work in Finland and have a valid visa/work permit. The start date for the position is upon agreement, but we're hoping to find the right fit soonish!
To apply, please send us your CV and personal letter (or a video, however you want to introduce yourself!) with your salary expectations February 26th 2021 at the latest. Email: arction@arction.com
Please note, that we will invite potential candidates for interviews already during application period, so don't hesitate to apply!


If you need more information about the position, contact Pasi Tuomainen (in English or Finnish): pasi.tuomainen@arction.com
You can read more about our company and what we do at our webpage www.arction.com